About Burgdorf Specific Chiropractic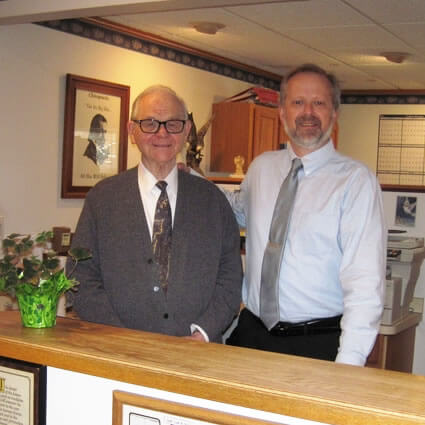 Dr. Dan Burgdorf has been practicing chiropractic since 1963 and opened our Rome clinic in 1970. Before moving to our current location, he had a small office in our downtown, followed by another clinic. Then, he built our existing space, which is attached to Dr. Dan's house, when Dr. Mike Burgdorf was a just a few years old!
Dr. Dan and Dr. Mike are passionate about helping patients experience optimal health that comes with a properly functioning nervous system. While we will get you out of pain, we look at the total picture.
Our Mission
The whole world should be under quality chiropractic care. Anybody that has a spine needs chiropractic care to some degree. For anybody who wants the care, needs the care and respects the care, we will do whatever it takes to get them that care. And to overcome any financial barriers within the law of fair exchange. Satisfied patients are the life of this office. We treat them well and we keep them well.
Lending a Listening Ear
Perhaps you've been to other healthcare offices where you didn't feel listened to. Maybe you felt like a number or a symptom. That's not how you will be treated in our clinic. Instead, you're a very important patient who is worthy of our time and attention.
"Some days I feel like I'm a priest in a confessional. Patients come in and they're hurting, and sometimes they open up to us," said Dr. Dan.
Here, patients always will be made to feel comfortable and safe.
The Influences Behind Our Practice
In addition to living by the Golden Rule, we are also influenced by BJ Palmer, Dr. Reggie Gold and our philosophy on how we relate to God and other people. "We believe in living an honest life and the universe comes back and it takes care of you," said Dr. Mike.
"You go to work with a purpose to serve people and take care of them," he added.
MEET THE DOCTORS
A Memorable Patient
One of Dr. Dan's oldest patients is Marv. The octogenarian used to be an entertainer. He would show up at the practice late at night on a weekend with a horrible headache. Marv would be dressed like a cowboy or in some other getup. Now years later, he's transferred over to Dr. Mike's care. Dr. Mike recalls being 4 or 5 years of age, seeing Marv come in dressed as an Elvis impersonator!
"That's the kind of fun we have around here. Like most doctors that I run into, we're not trying to get you in and out the door as fast as possible to get to the next person. We take a personal interest in getting to know patients on a personal basis," said Dr. Mike.
Take That First Step
Contact our chiropractic care center to schedule an appointment!
---
About Burgdorf Specific Chiropractic | (315) 336-6761